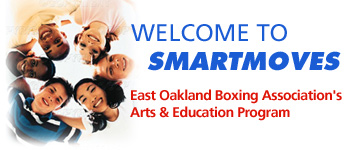 A project of Be A Mentor, Inc
East Oakland Boxing Association
Youth Participants:
Youth ages 6 - 13 in East Oakland - and some youth up to age 20. They come from diverse cultures including African American, Latino, Asian, and Native American. They reside in low income and foster care homes and are low academic achievers; a few have been in the juvenile justice system.
Project Overview:
The Smartmoves Program is the education and arts program of the East Oakland Boxing Association (EOBA), a free youth organization that primarily serves children and youth ages 6-20.

Our Mission- To provide a safe and nurturing environment in which the children and youth of East Oakland can feel secure as they achieve success in school, learn life skills, and build self-esteem in preparation for their futures.

Programming
The EOBA Smartmoves Program has been successfully providing free services to over 20,000 youth and their families since 1987.
The lure of the tough sport of boxing coaxed otherwise hardened youth to curiously investigate the EOBA Smartmoves Program. Youth can tell their friends that they are going to the boxing gym when in fact they are getting help with their homework, learning the arts such as photography, crafts, theater, and music, learning computer skills, working in the all organic garden, going on fun field trips, and learning about health and nutrition.
We implement mandatory violence prevention and anger management classes at the EOBA Smartmoves Program, so that participants attain tools that enable them to feel safe in their everyday lives.
Flexibility
The Smartmoves Program attempts to keep youth actively engaged at the program by talking to youth about what they want to do. Mentors have the opportunity to join into the already existing activities or organize their own.
A year round program that offers after-school and summer activities.
For the safety of our children, all volunteer mentors must complete an on-line application and undergo a background investigation.
Elizabeth Friedler
Education Program Director
Smartmoves
East Oakland Boxing Association
816 98th Avenue
Oakland, CA 94603
phone/fax (510)430-8056