BE A MENTOR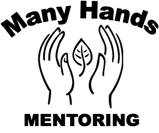 In collaboration with Be a Mentor, Inc. & Central Pointe Community Services
OUR MISSION
To help youth reach their potential in an ever changing society, through positive one-on-one relationships with mentors. Cultivating children's resiliency to become competent, healthy, happy, and successful adults
YOUTH PARTICIPANTS
Many Hands Mentoring serves youth residing in Bloomington/Normal Illinois ages 8 – 19. All community youth are welcome, placement will be determined by Mentor availability.
PROJECT OVERVIEW
Over the past decade, the concept of mentoring has gained national appeal as a method of helping youth navigate complex social issues and become productive adults. In the US today, 17.6 million young people – nearly half the youth population – want or need mentors to help them reach their full potential. A growing body of research confirms what we instinctively know to be true – that a caring adult can make a big difference in a child's future. Mentors serve as role models, advocates, friends, and advisors.
The overall goal of our program is to encourage youth in 4 categories
Academic support
Goal setting
Emotional Support
Exposure to new things
This is accomplished through pairing youth with professional/supportive mentors. Our program is designed in 2 terms 11 months (February – December) and 9 months (August – June)
GETTING INVOLVED IS EASY!
Click on "Volunteer Now" to complete an application and Many Hands Mentoring will give you a call.